We are here to help and answer any question you might have. We look forward to hearing from you.
Need to talk? Call or leave us a message and we'll get back to you shortly.
WHY GET YOUR RUG REPAIRED?
Proper, consistent rug cleaning by a professional is the most important step in keeping your rug in good shape. However, sometimes damage still happens. Rugs get walked and spilled on, heavy furniture may dent them, dogs might chew them, and even moths could damage the fibers. To ensure your rug lasts over time, it's important to have it repaired quickly-- and by an expert. The reason for this is simple; your beautiful rugs are an investment. Not only will the rug look better once repaired, but you'll also maintain the piece as a treasured valuable for years to come. The reason you want to repair rugs quickly is so that further damage or deterioration can be prevented before it worsens and requires more labor-intensive (and expensive) work.
WHAT MAKES US THE BEST FOR RUG REPAIR IN SAN DIEGO?
Rug Expo has a professional staff for rug repair and restoration, making us the true rug experts in San Diego. We've restored thousands of rugs back to pristine condition, including antique and vintage pieces. We handle fringe repair, color restoration, binding, rip/hole repair, and much more. If your rug has a problem, we have an answer! We offer the best rug repair and re- weaving for pieces from all over the world. Unlike many generic carpet companies, our specialized professionals ensure the quality and authenticity of their work. They make sure that they use the right organic materials, colors, and weaving techniques when completing all repairs. This is how we maintain the natural character of your rug, even if it has suffered damage. We offer a free quote for our repair services, just give us a call or send us a message to learn more. Want us to come pick your rug up for you and repair it? Not a problem, we will do that too.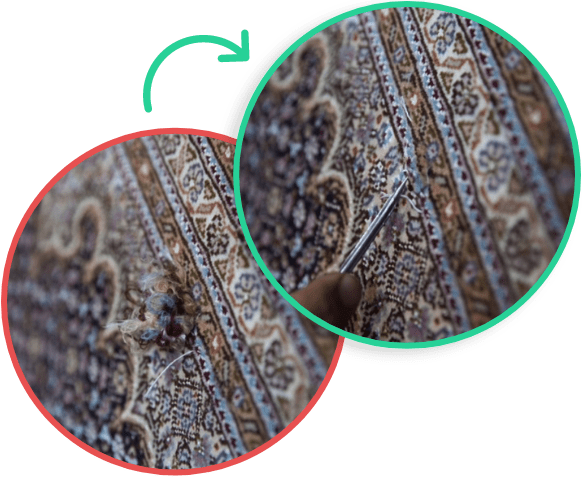 We can fix holes and rips of all different sizes on all types of rugs. Often, we see rips occur due to the age of a rug if it is vintage or an antique. However, sometimes accidents happen and we see newer pieces in need of a repair too. Every type of damage has a unique process; our team can replace worn pile, as well as re-weave and re-knot rips and holes in your rug.
The colors in your rug can be damaged for many different reasons, it could be because of:
1.
Sun damage. Persian and Oriental rugs are susceptible to damage from sun fading when left in bright areas over time.
2.
Water damage. Exposing rugs to too much moisture (such as flood damage) can lead to color run. This is simply when darker dyes bleed into the lighter areas.
3.
Improper cleaning. If a rug isn't cleaned by a professional with the necessary techniques, sometimes the color can be damaged. Unfortunately, this is fairly common. Luckily, the professionals at Rug Expo will restore your color as good as new! Our Dye Masters know how to correct color run, as well as blend the right dyes very precisely in order to achieve exact color matches. This ensures uniformity that will restore a damaged rug or carpet back to its original beauty and vividness.
RUG BINDING/SERGING
Binding and serging are both done with a machine that resembles a sewing machine. This process is for securing the sides (or ends) of a carpet. Sometimes, binding and serging will need to be repaired if it has come undone, or if the rug has been damaged or cut. Some people prefer the look of binding, others prefer serging. Binding is often a thinner stich, while serging resembles a thick thread. In both occasions, the thread is often dyed to match the primary color of the rug. Some rugs include binding/serging around their whole perimeter, while others have two ends held together with fringe.
FRINGE REPAIR
Often, the ends of the rug (called the fringe) get damaged, torn, or even begin to unravel. It is very important to have rug fringe repaired quickly to prevent unraveling of the rest of the rug. How a master weaver repairs rug fringe will depend on the extent of the damage and type of rug. If the damage is minimal, we will work to secure any loose fringe and then trim the fringe so that it is even. For other cases, we will instead sew new fringe onto the rug versus attempting to repair damaged fringe. All methods make the fringe not only look better, but also improves the rug's overall durability by preventing unraveling.
WANT AN EXPERT'S OPINION ON HOW TO BUY A FINE ORIENTAL, ANTIQUE, OR PERSIAN RUG?
We're here for any and all questions you have as you get started.