RUG; THE SOUL OF ANY ROOM
Fine rugs are an amazing form of art; there is so much work, thought, and time that goes into the creation of every hand-woven Oriental rug. This is the reason that these treasures are so beautiful and valuable to people across the globe. The most important decision you can make is the first; where should you purchase a fine Rug? Above all else, make sure you shop with someone you can trust. Visit a reputable business with experience and good reviews. Make sure the salesperson you speak with is knowledgeable and willing to take the time to help you understand the value and differences in each piece. A second suggestion is to treat buying a fine rug just as you would artwork. Take your time to make sure you make the right choice. Beautiful rugs can be the focal point of a room, and you can (and are encouraged!) to decorate the rest of the room around them. In most European and Asian countries and cities rugs are always considered "the soul of any room."
ARE YOU SURE WHAT SIZE RUG WOULD SUIT YOUR SPACE THE BEST?
When rug shopping, you'll need to come equipped with the shape and dimensions of your room. This will ensure the staff can guide you to the best sizes to fit your room. Some customers know what size rug they need when they come in to our showroom. For those who don't, we will help you choose the right rug size, whether it's for your living room, bathroom, or any other room in your home.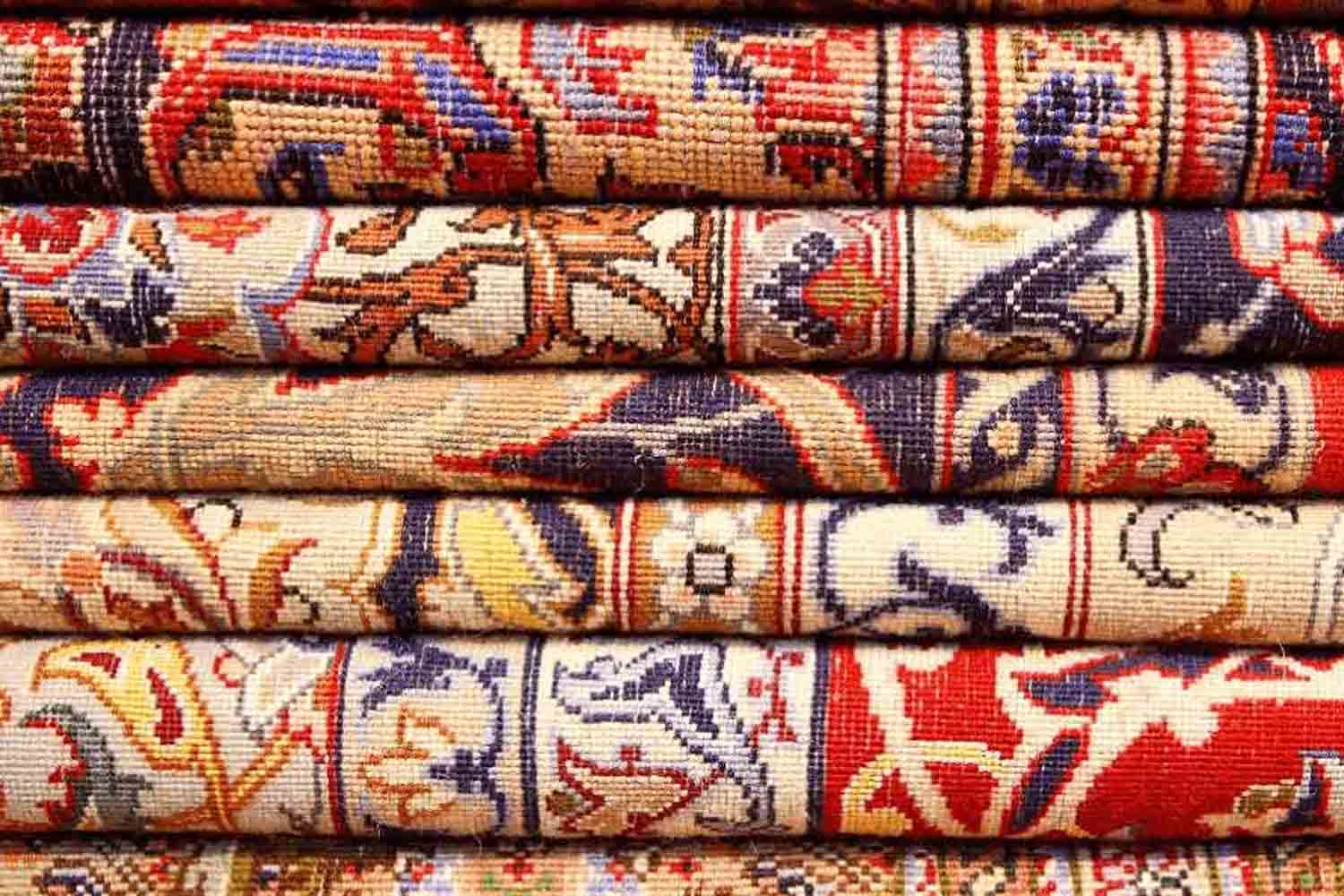 Best professionals with years of experience are gathered at Rug Expo to help you with the decision. Get in touch to learn more.
WHERE IS THE RUG GOING TO?
This is an important question; don't forget about the placement! There are several factors that determine how and where you should place a rug in a room, and they drastically effect the overall look, feel, design, and even ambiance of a space. The size of the room, furniture, and layout is all very important. For a living room, the ideal placement of the rug is in the center, with furniture placed around it. Typically people place a large or dominant piece of furniture like a coffee table in the center of the room as well. If your room is big enough, then an 8x10, 9x12 or 10x14 rug will allow enough of the rug to show even when furniture is placed on top or around the edges. For apartment set in The Bedroom Rules that typically have smaller living areas, a 5x7 may do the trick.
THE BEDROOM RULES
There are some good rules to keep in mind when shopping for an Oriental rug for a bedroom. As we mentioned, it's advised to let a fine rug act as the focal point of your room and guide the remaining décor. In a bedroom, be sure to leave at least two feet of border (or space) so it isn't right against the wall. You'll want to fill as much of the floor as you can with your rug, but still leave a little bit of space around the edges (we suggest about two feet). If you have a queen-size bed, a 9'x12' is typically a good fit underneath. For larger beds (king-size or California king) you can go with a 10' x 14' or even large depending on the space you have available.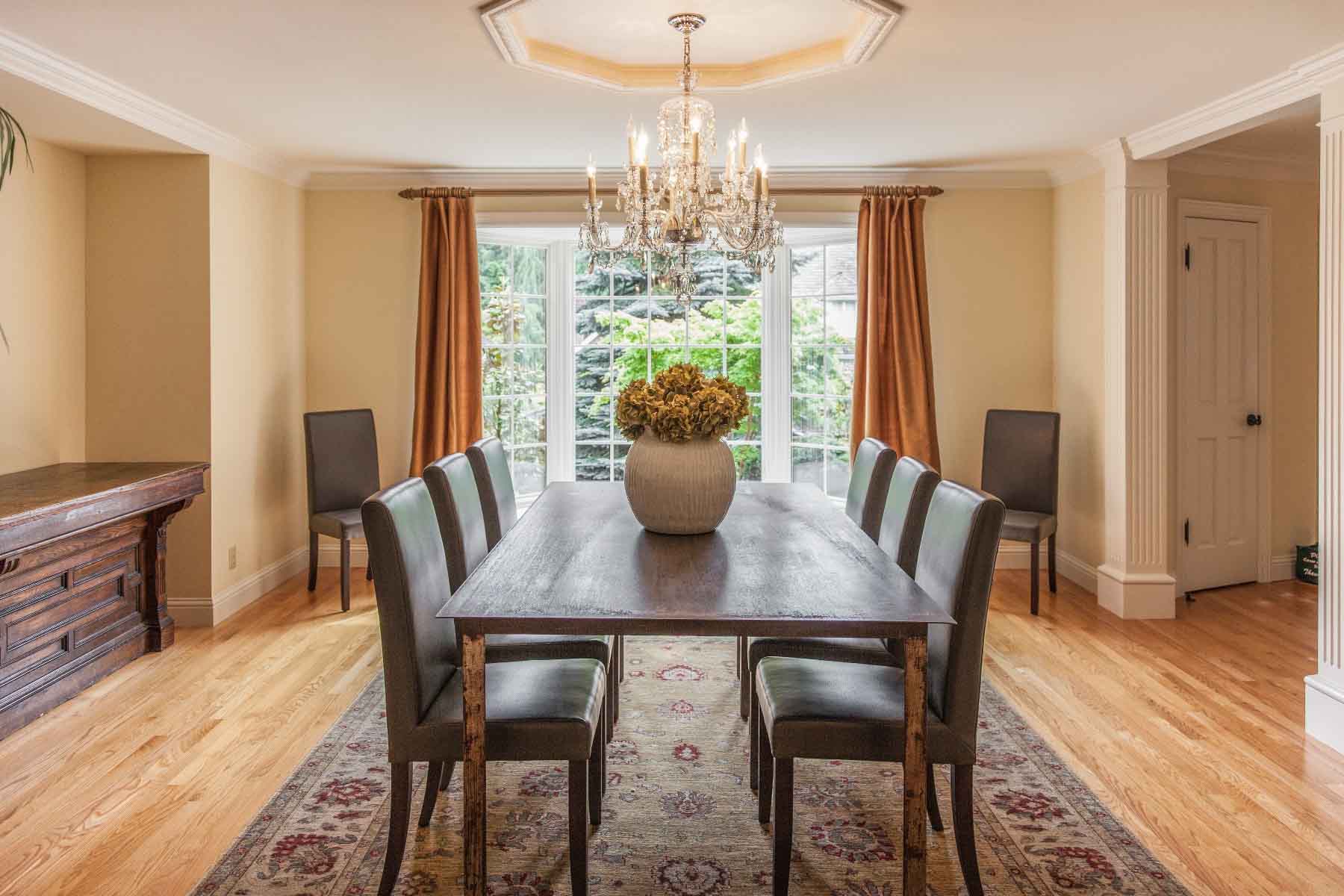 Best professionals with years of experience are gathered at Rug Expo to help you with the rules. Get in touch to learn more.
RULES FOR FINE DINING ROOMS
The dining room is a very important room in the home, as it's one where your family and friends will spend a lot of time together. You should try to choose a large enough rug so that both all of your dining room furniture fits on the surface. This means that when you pull the chairs out from under your table, the back legs are still resting evenly on the rug. If instead the rug is too small, it will be difficult to easily push the chairs back in under the table when not in use.
This is typically the size of rug we recommend depending on the size of your dining room table
Table with four chairs: A square 8'x'8 rug.
Table with six chairs: A rectangular 8'x10' rug.
Table with eight chairs: A rectangular 9'x12' rug.
Table with 10 chairs: A rectangular 10'x14' rug.
Table with 12 chairs: A rectangular 12'x15' rug.
Table with 14-18 chairs: A rectangular 12'x18' rug.
For round tables with chairs we recommend using a round rug and following these guidelines
8' or 9' round for round tables with 4 chairs.
9' or 10' for tables with 6 chairs
12' round for tables with 8 chairs.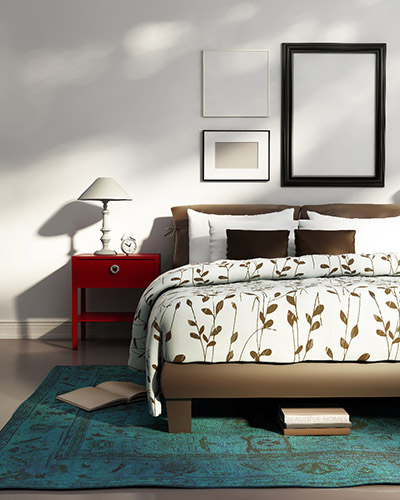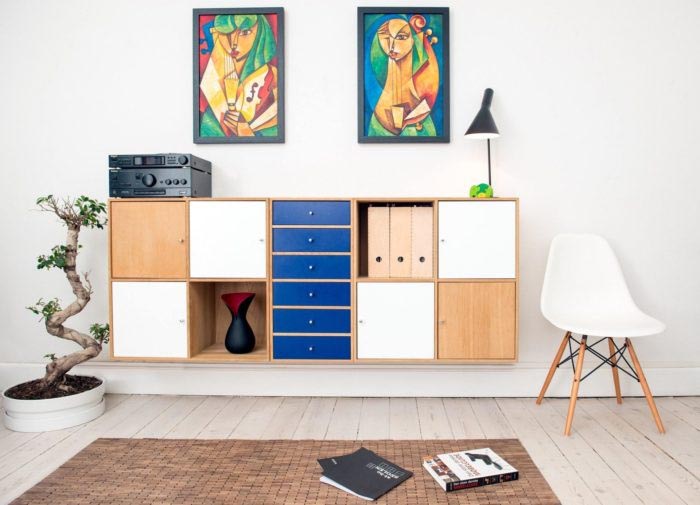 CONSIDER YOUR DECORATING GOALS
A rug can dramatically change the look and ambiance of any room. When it comes to decorating with Oriental rugs, it's all about colors, patterns, and proportions. Thinking about the balance of color and texture is also an important consideration.
WHAT IS YOUR COLOR PALETTE?
There are millions of beautiful decorating ideas out there that revolve around the inclusion of an Oriental rug. The first consideration for most is the color palette. Your Oriental rug search may be a bit easier if you're just starting a room from scratch, or redecorating a room. In that case, you can select your rug based on what attracts you to it. Many interior designers find it easier to select the rug for a room before determining any other colors, décor, or furniture. The Oriental rug you select can then determine your color palette. But if you are trying to match a rug to an existing room's colors and decor, that may involve a different process. One thing we suggest is bringing in color swatches or photos when you come in to shop. That way, an expert with an eye for beautiful design can show you some ideas to match your overall vision.
WHAT IS YOUR BUDGET?
When shopping for Oriental rugs, come prepared with a general idea of what you can spend. You will also find it helpful to know your room dimensions and what colors will work in your room. And remember, a wise man once said, "I don't have enough money not to buy quality." Unlike many other items you may buy for your home that will depreciate, hand-made quality rugs are investment pieces that are built to last. It's important also to know the difference in paying for a hand-made rug, versus a machine-made rug. A hand-made rug is a labor-intensive creation; they are rarer and thus worth more.
DO YOU HAVE A TRAFFIC PLAN?
What type of life will your rug have? Will it go in a spot with high-traffic, or in a room frequented by kids and pets? If you do have children or pets, we suggest you choose an easy-to-clean rug with a low-pile that will stand up well to spot cleaning. Luckily, Oriental rugs are very durable in nature. And that is a very good reason that even with rug rats and Fido, your rugs will still last. An interesting fact related to the durability and longevity of Oriental rugs is that that on average, a handmade Oriental rug will outlast the life of 7 sofas. One other element to consider is a rug pad. Depending on the surface your rug will go on, it can be very slick when walked on if the proper pad is not placed beneath. Ask a rug expert which rug pad is the best for your flooring type and rug choice.
WANT AN EXPERT'S OPINION ON HOW TO BUY A FINE ORIENTAL, ANTIQUE, OR PERSIAN RUG?
We're here for any and all questions you have as you get started.